Email Marketing Tips
This page provides email marketing tips and strategies to help you offer value and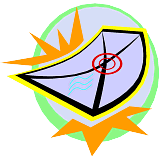 build trust with a qualified, interested list of prospects. Learn how to send emails that are seen as valuable information, not spam, while driving business revenue from your email list.

What is Email Marketing?
First, a definition: Email marketing is sending emails to a list of prospective customers with the goal of influencing them in some way to purchase your products or services. It can be an important, cost-effective part of your marketing plan when done well.
Most of us already get too much spam in our inboxes, and as a result email marketing can get a bad reputation as spamming. However, this is not the case. The key is to make sure that your emails are never perceived as spam by ensuring that you are using an interested, relevant list that has opted in to receiving your emails.
Avoiding Spam
Here's how to make sure your emails will not be perceived as spammy:
Use a double-opt-in email list only. This means each prospect on your list has proactively indicated interest in receiving your emails twice. Usually this is done by having the prospect first sign up to receive your emails by filling in a form on a website or at some other location, and they then receive a confirmation email with a link that they have to click to confirm their registration.
Allow recipients to unsubscribe easily. Always include a easy-to-find link in your email message that allows your recipient to opt-out of future emails from you. Even if they had signed up for your email originally, their needs may have changed or they may decide they did not get enough value from your emails to continue receiving them.
Don't send too many emails. How frequently you email your list will depend on your business and the expectations of your prospective customers. It's a good idea to give them an idea of the frequency of emails they should expect at the time they sign up (eg, "sign up for our free weekly newsletter").
Include helpful and interesting content in your emails. Yes, your goal is to ultimately sell your products and services. But you also have to get your prospects interested and engaged. You want them to open up your emails and start reading. If all you have is a sales pitch, they'll send your email into the trash folder as quickly as they can. Include an interested article, and they just might keep reading and then click through to purchase something.
Choose your subject line carefully. You don't want your email to end up in the recipients' spam folder automatically, so be careful in your choice of words in the subject line. Your subject line should entice your prospect to open up and read the email, but avoid all-capitals, and words like "FREE" or using exclamation points. There are a number of tools available, including many of the bulk email services available, that will check your subject line for you to make sure it will not get marked as spam. Also, you can send a test to your own inbox, and make sure it doesn't get automatically forwarded to your spam folder.
Build Your Email List
The most productive form of marketing by email is to grow and nurture your own list of subscribers. It is also possible to purchase an email list from any number of companies, but then you always run the challenge of whether or not those email subscribers had really opted in to receive an email like yours. If not, you will be perceived as spam.
The best strategy follows the AIDA rule:
Attention – use a good headline & intro to grab your prospect's attention,
Information – give them useful and interesting information that keeps them reading,
Desire – through that information, influence them to desire your product or service,
Action – always include a call-to-action in your email marketing: what do you want the prospect to do? How do you spur them into action?
Email Marketing Tool Providers
There are a number of bulk email providers you can choose from to manage your email campaign:
Vertical Response offers a free trial of their email marketing services. You can send 100 FREE email newsletters with your VerticalResponse trial.
Constant Contact – they are a leading provider of Email Marketing and Online Surveys, offering a FREE 60-Day service. 
iContact is another Email Communication Expert provider – they offer Email Marketing, RSS, Surveys, and Autoresponders. Try a Free Trial of iContact here.
Done well, email has the benefit of being an extremely cost-effective form of marketing. It can easily just cost a small percentage of sending a direct mail piece to the same list.